Mobile Apps for Shopware 6
Next generation native mobile app experience for SW6
CodeCoda presents a new Shopware 6 ready, native mobile application, that helps merchants move ahead of their competitors. With this mobile application, available for Android and iOS, you can convincingly win the trust of your customers by presenting them a modern, User Experience focused application, which eases the shopping process and is optimized for conversion.
Available for:

An Innovative Design Approach Driven by User Experience
Our Shopware-powered mobile applications are designed to create the ultimate shopping experience every online shop owner always wanted. Once your customers tap into the smooth and rich environment of this platform, their usual choice won't seem as attractive anymore.
The innovative design behind CodeCoda's Shopware 6 apps brings the type of user experience that leads to establishing long-term connections with customers, and strong brand exposure. With the intuitive feel and the power of native apps, combined with user-oriented UX standards, our mobile-based platform is here to help store owners conquer distant markets and rivel the influence of strong competition. Shopware 6 is the best of the breed in eCommerce and has an undeniable potential to optimize multiple aspects of sales and marketing strategies.
One of the main advantages of our custom-built Shopware 6 mobile apps is its potential to extend your customers' base to virtually everyone with a phone.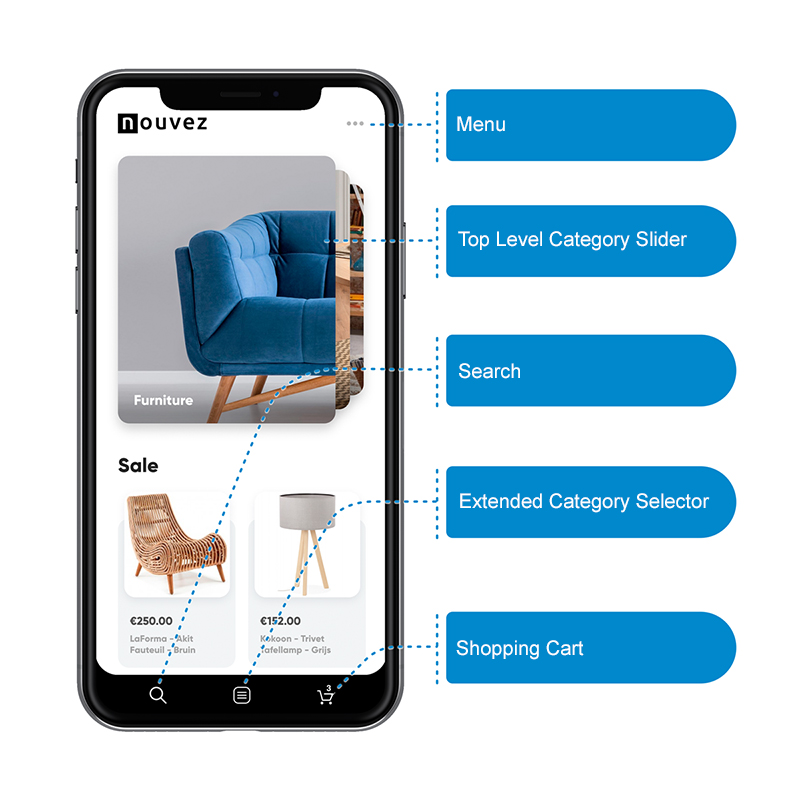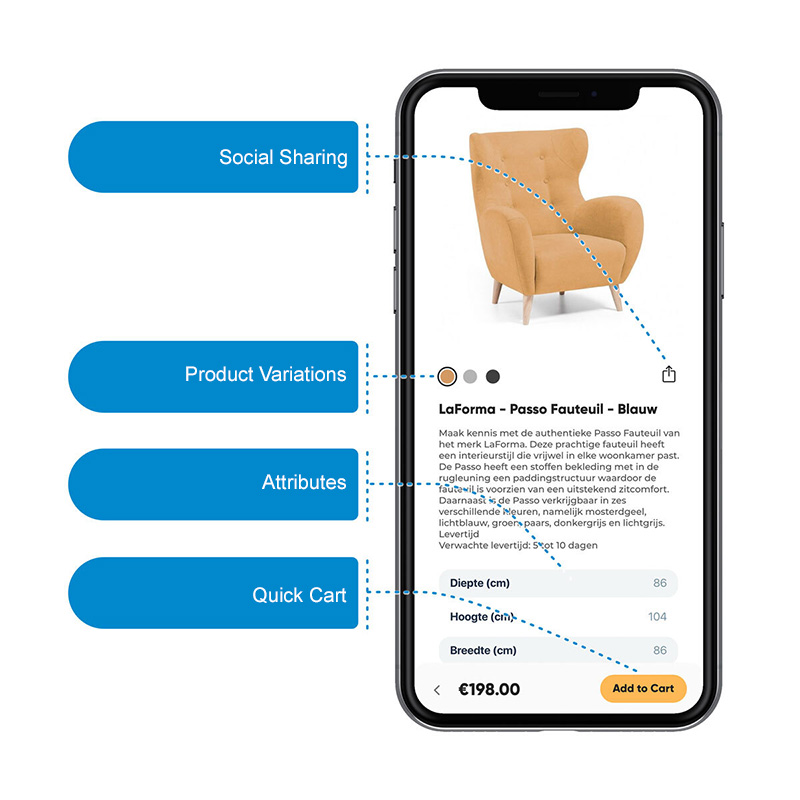 Shopware 6 Mobile Apps
With Shopware 6 Mobile App you can advertise and sell items across the globe as quickly as opening the in-built calculator on your phone. Every shop item is conveniently accessible through a few finger taps. The intuitive interface readily brings every function or detail, and the secure way checkout and personal information are handled induce confidence and reliability. Shopware 6 recognizes the idea that not having a mobile app for online commerce purposes results in loss of clients and revenue. In our apps, every stage of the sales process is meticulously optimized and can undergo almost limitless customizations to produce the enhanced usability and the unique experience that makes shoppers come back for more.
The result: incredible speed and flow, paired with the easy-to-maintain monetization-friendly app with limitless sales opportunities and growth potential.
Shopware 6 Mobile App Features
Performance
Best and Fastest solution to spin up a native mobile e-Store, making use of Shopware 6 native Sales API.
Customizable
Easily fits color themes of your Shopware 6 Web Store. Plug and Play available for all Shopware 6 versions.
Push Notifications
Stay in Contact with all Marketing Channels to leverage the benefits of reaching out to your customers.
Local payments
Localization and security with globally accepted payment gateway integrations from all over the world.
Cost effective
We are experts in launching your omni-channel digital Shopware experience across all channels and media.
User Experience
Focused on a clean customer journey making it easy to attract and convert potential buyers into customers.
Mobile Commerce for iOS and Android
Shopware 6 Mobile apps represent a dedicated tool for your eCommerce project, and it is designed for fast and effective performance. While such potential is usually lost with regular website solutions, mobile eCommerce highlights the importance of sales done via hand-held devices. Since most online purchases happen on mobile, many experienced eCommerce entrepreneurs recognize the immense potential behind Shopware 6, especially with the dual support for iOS and Android.
Our eCommerce-based mobile apps support flexible pricing options for online stores and detailed product customization. Feature features promote compatibility and allow for products to really stand out and attract the right crowd. This customer-oriented approach is further enhanced through a wide range of available design, layout, and color adjustments of the app's interface, to reflect on the specific clients' needs or business requirements. Shopware 6 also supports mobile app deep linking used in advanced online marketing strategies.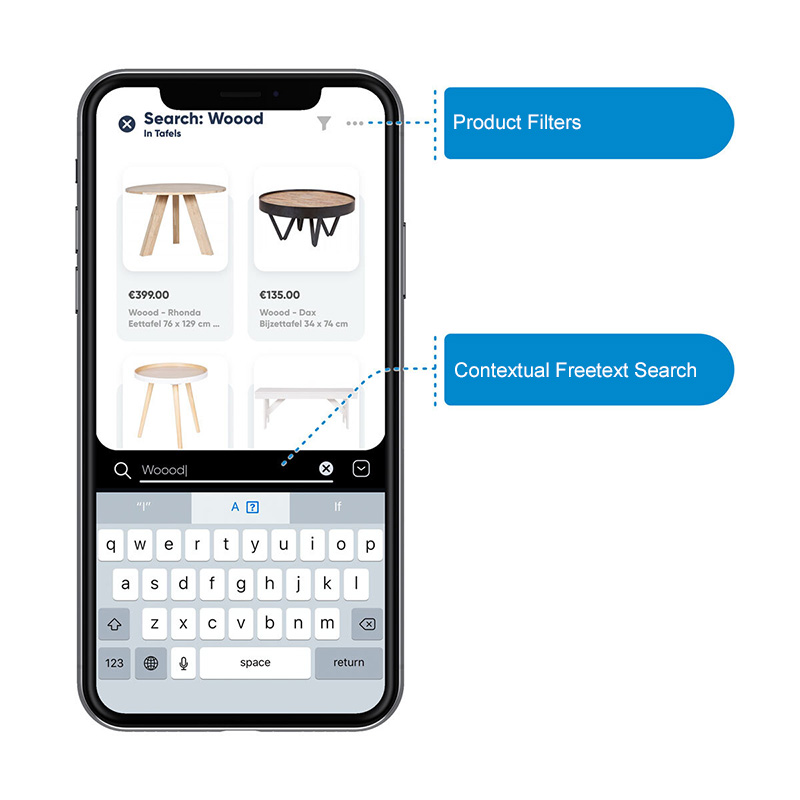 Corporate
Customized UI **
Custom Extensions **
Business Hour Support
12 months of Updates
Enterprise
Customized UI **
Custom Plug In Functionality **
Custom Payment Gateway Integration **
Custom Extensions **
24/7 Enterprise Support
Lifetime Updates
Starter
Default User Interface
Base Color Adoption
Logo Adoption
Business Hour Support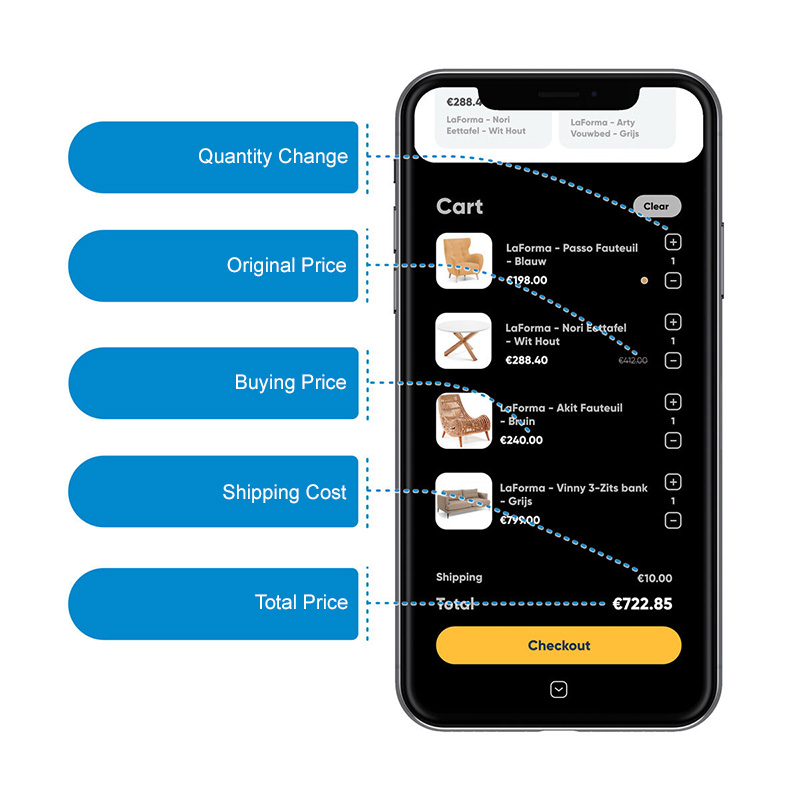 Advanced Functionality
Custom functionalities like code scanner (QR), 'tell a friend', or 'X number of people who also bought this item today' are included and are some of the industry-proven methods for showcasing products core advantages and using their popularity to boost sales. Our Shopware 6 mobile apps support detailed product and category customization, all factors directly connected to customer satisfaction level. When product quality and authenticity is clearly on display, and there is quick and easy access to the whole product line, customers feel more sure about the making the right choice with a purchase.
Contemporary shoppers are busy people who value their time and carefully plan their shopping habits, including research, comparison, and purchase. Shopware acknowledges the shopping patterns of mobile buyers and their specific preferences, needs, and expectations. Considering the sporadic way most people use their phones, the app creates sales opportunities using the narrow time frames that open up. Potential sales strategies come from the fact the mobile app works in a way that complements the busy schedule of most phone users and turns them into potential buyers. Shopware 6 Mobile Applications take advantage of the immense amount of total idle time of daily phone use, which otherwise would remain a wasted opportunity. In this way, idle time is converted to potential profit, and on the terms of the buyers and according to their specific preferences. With Shopware 6, everyone who habitually tinkers with their phone while taking a coffee break or waiting for the bus is now a potential customer. With flexible functionalities and detailed product customization, our mobile app is built to welcome a variety of customer-centric sales strategies. Shopware is here to adapt your online store to the busy lifestyle of people today and use their shopping habits and preferences to deliver a flawless shopping experience they always wanted.
Made with for Shopware and eCommerce
Need more online commerce omnichannel coverage?
Find out more about all solutions for Shopware provided by CodeCoda!
* Prices given do not include VAT. Pricing is purely indicative and depends on the amount of custom work being done for each individual client.
** In all versions Developer time is included for connecting to the Shopware 6 API, and potential bespoke customizations. Also compiling and uploading the Apps to the respective app stores is included in the above pricing. On Corporate or Enterprise versions, additional functionality can be added, and/or design can be changed to match your website look and feel. Please request an offer for such bespoke changes.