Tech Expertise: Progressive Web Applications
Next generation progressive, offline capable, ultra fast loading applications
Explore our PWA expertise
CodeCoda builds Progressive Web Applications, offering next generation, ultra fast, offline available, content driven applications. We engage this technology where speed is critical, or offline capabilities matter. eCommerce and Media are such fields in which PWAs find heavy application, and load time are the main factors for choosing the technology.
Progressive Web Apps make use of modern web capabilities, delivering native mobile app experiences to users. The PWA technology is not a new technology per se, but a combination of features and experiences that look and feel like native mobile apps.
CodeCoda Software engineers enable businesses to play in the leaders' league, boosting web performance and enhance customer experience, which immediately result in increased conversions. PWAs are the logical advancement of Single Page Applications (SPA). CodeCoda, through various initiatives, partnering with leading PWA technology providers, has the necessary hands-on experience to design, strategize and build highest standard progressive applications.
Technology Landscape
changed
-
Business Problems
remain the
same.
1
Use Case: eCommerce
With 40% of transactions in 2018 taking place on mobile devices, consumers are increasingly relying on their smartphones and tablets to shop online. Today's consumers demand that the mobile experience should be as fast, if not faster and as easy as the experience on a desktop device.
2
Use Case: Media and News
The media industry has been impacted by digital transformation too. From newspapers to news channels to over the top content (OTT), the entire industry is undergoing a fundamental rehaul. The digital changes are being led by changing consumer expectations and the need for instant access to content on any device.
3
Use Case: SPA & Blogs
Like in eCommerce and Media, PWAs are the perfect technology to serve mission critical content. From as SPAs designed web apps to blogs, Progressive Web Applications help users to have a perfect mobile near-to-native experience. Speed and offline readability of content becomes inheritantly important.
Added Value of Progressive Web Apps for eCommerce
Our software engineers build solutions that bring ultra fast, mobile optimized Customer Experience to any device.
CodeCoda has partnered with technology providers such as VueStorefront. VSF is a PWA frontend which transforms Magento or Shopware eCommerce solutions into a headless CMS and provides a mobile first optimized experience for online shoppers.

The incredible performance of the PWA technology can help to significantly improve conversion rates and engagement while lowering bounce rates.
PWAs also provide native functionalities such like push notifications, home-screen access, and full-screen mode. Progressive Web Apps also make sure the store is accessible in offline mode, with poor connection, on any device.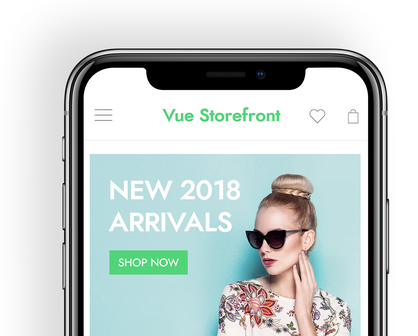 Why us?
Extended Experience delivering PWA Solutions
Progressive Web Applications bring several advantages to web centric businesses. The most important from a technical point of view are listed here.
PWAs deliver the functionality of native mobile apps without the need for consumers to download anything to their devices. This does not mean that app stores will vanish, however many businesses are already eliminating the cost of maintaining both, a web experience and a native app by design. This is where the PWA comes into play.

As growing numbers of companies abandon apps in favor of PWAs, app design/development teams enjoy the convenience of using one codebase for all devices. Another plus: PWAs have the added benefit of not needing to be approved by app stores or marketed to consumers.
Workability with every phone, browser and user
Fits to every screen size
Easy Searching capabilities
Secure and Navigation just like an App
Anytime access everywhere
3 Benefits of Progressive Web Apps
01
Offline Availability
Content availability without network
Offline Mode
PWA applications can preload content while online and be used in offline mode, or in bad network conditions later on. Interactions with server side infrastructure can be executed once a network becomes available again.
02
Near Native Interface
Full Screen and fits on any device
Near Native Interface
No Browser Bar and Fullscreen mode are the main characteristcs of PWAs. They look and feel native and can even be added to the home screen of mobile phones in form of an icon.
03
Lightning fast
Latest Browser friendly technology
Ultra fast loading
PWAs can be pre-loaded by Browsers. Making use of laterst caching technologies ultimately helps conversions by dropping page load times to a minimum. Effectively after initial load only content is transferred between back and front.
PWA Tech Stack
Progressive Web Applications rely heavily on a JavaScript based tech stack. CodeCoda's expertise in Javascript based frameworks is a vital asset to deliver the next generation in user friendly and strongly optimized mobile performance apps.
JavaScript
EC6
TypeScript
SPA
PWA
VueJS
AngularJS
ReactJS
HTML 5
CSS 3