Best B2B eCommerce Marketplace Platforms
Updated!
This is an updated version of the original article. Last Update:
June 24, 2021
The internet has changed our lives in many ways, from facilitating communication and connectivity to changing the way business is done. It accompanies every major move we make. eCommerce is one such example.
Before the internet, people would only buy products and services on a local level, which decreased the variety of goods and limited businesses to smaller markets. With the advent of eCommerce, it became a lot easier for companies to sell their products and services worldwide. While the trend started with businesses selling their products to customers globally, it quickly added a whole new eCommerce branch — B2B eCommerce.
B2B
The term B2B stands for "business to business". It refers to those transactions between two businesses — for example, a manufacturer and a wholesaler, a wholesaler and a retailer, and so on. Therefore, the significant difference is that two companies do business instead of one company providing for an individual consumer.
B2B Marketplace
As discussed earlier, the eCommerce industry has seen a boom in the last decade alone, including B2B eCommerce. B2B marketplaces went from non-existent to being the single most prominent business mode between companies worldwide. A B2B marketplace functions much like a standard B2C eCommerce website, i.e., many sellers market their products on a particular website or, as we call it, a marketplace. Buyers then go on to that marketplace, compare the pricing, features between different products and sellers, and place their order. The only difference is that in a B2C marketplace, the sellers in most cases would be wholesalers and retailers. In rare cases, the manufacturer itself and the buyer would be the individual consumer who is, in effect, the end-user of the product. In the marketplace, the sellers are usually the manufacturers. Sometimes, wholesalers sell products in bulk, and the buyers are typically small businesses or retailers. They try to source a particular product and either use it to make another product or sell it further on a B2C marketplace for a commission.
B2B platforms have several advantages over a B2C site or, better yet, the traditional way of sourcing products. Before B2B sites, the business between companies located in different countries was almost non-existent. Only large multinational corporations who had the resources to set up shops beyond country borders could grab international market shares. Otherwise, companies would stay local. To source products from abroad, retailers have to travel to each country's factory and personally examine their quality. Another option was to attend expos, which remain a great way to market your products but nothing compared to the internet world. The process was very hectic, and small businesses preferred to rely on locally made products, leaving the consumers with minimal shopping options.
B2B marketplaces changed the entire dynamic of how things were sourced internationally. Now buyers could order products in bulk with just the click of a mouse. Moreover, B2B marketplaces made it easier to compare products worldwide based on quality and pricing. On top of that, B2B marketplaces introduced a feature known as tiered pricing, which meant the more you order, the lesser you pay as a retailer.
B2B Marketplace Platforms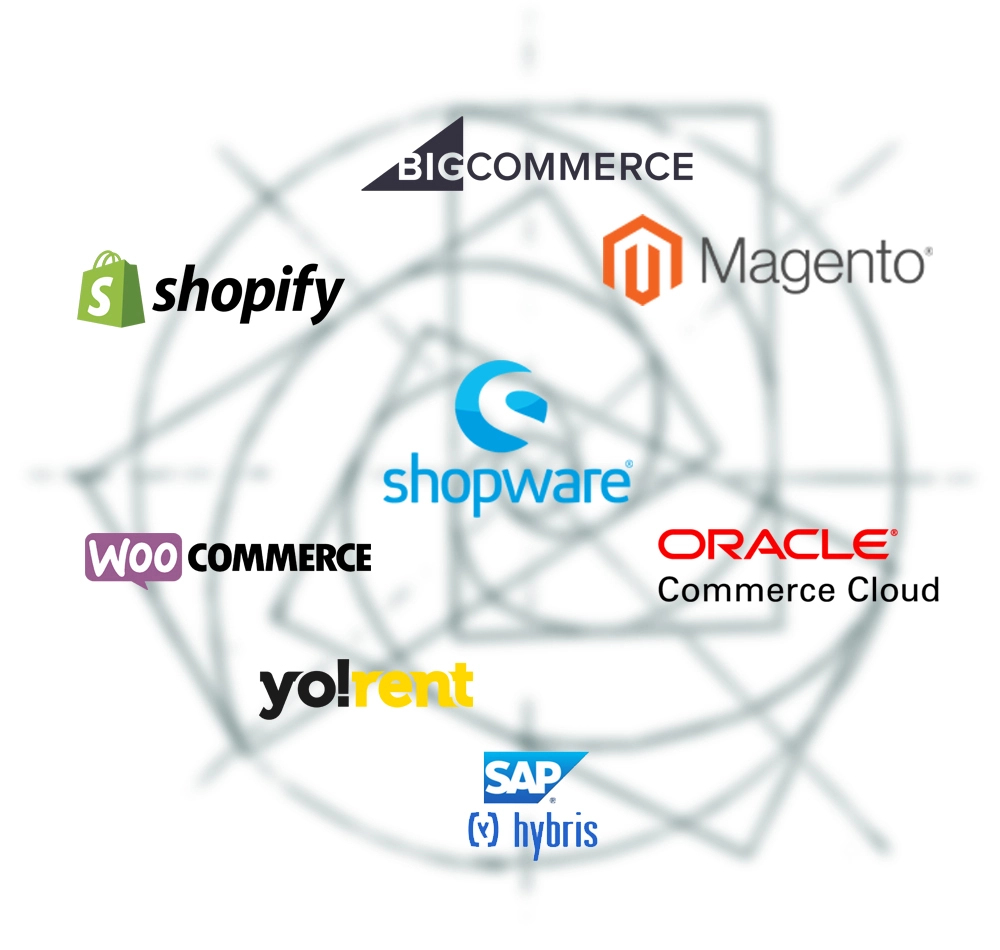 A B2B marketplace platform serves as a tool to help you build your B2B eCommerce store. We need to understand that not all B2B marketplace platforms act as marketplaces. Instead, some offer single-time subscription packages only. This is what that means – you jump on the platform and build your eCommerce store. By this time, all platform work should be complete, apart from store management, customer services, etc.
On the other hand, some B2B marketplace platforms do both jobs: (1) build an eCommerce store and (2) promote your product on the online marketplace that they created. When you start an online store, you become a part of a vast marketplace where thousands of buyers come and look for products similar to yours. The chances are that you'll score a sale if your prices and features are competitive and compatible. Before B2B marketplace platforms, to generate more traffic, one had to use different sales channels.
Both types have their pros and cons. An online marketplace welcomes small businesses and individual entrepreneurs looking to sell their products without much preparation. Alternatively, the subscription-based version is better suited for large enterprises that run multiple sales channels and have many ways to market their products.
Now that we have fully established what B2B marketplaces are and why small businesses should start using them, let's look at some of the most popular B2B examples in existence. Knowing about each will help when you need to make the right decision about sourcing your products.
We are listing these marketplaces and comparing them using their signature features as a criterion.
1. Shopify Plus
Shopify Plus is one of the most popular eCommerce website development platforms. It allows its users to build their eCommerce store based on a tiered pricing model. From creating an aesthetic-looking seamless website to positioning yourself amongst your target customers, Shopify is a one-stop-shop. Some of the most prominent of Shopify's features include:
One of the significant reasons why Shopify shot up in popularity was the ease of building an eCommerce store. Previously customers were spending hundreds and thousands of dollars on getting their websites designed by professional web developers. Shopify changed that altogether by offering easy to set-up and pre-designed templates. It supports over 70 themes and 50 languages so that your product line is presented in a language your customers understand. Moreover, they took away all the technicalities related to designing a website. What is left is a simple drag-and-drop of options.
Shopify lets you manage your eCommerce store in an easy and hassle-free manner. From being able to remotely control your store from even your cellphone to doing everything accounting-related, it does it all. Shopify automatically calculates the shipping charges, sends reminders to customers about sales, pending items in the cart, etc., and calculates taxes for your business. It also allows you to track your shipments and monitor traffic on your store.
Shopify comes equipped with advanced stores management features such as allowing you to build customer profiles, accounts, and groups for specific customer types. It facilitates store owners with drop-shipping and fulfillment centers.
Add to all these features the power of digital marketing. Shopify lets customers build SEO friendly websites by supporting the best SEO practices, allowing them to integrate their social media accounts onto the store, market products, and even sell directly on Facebook.
Shopify makes sure you and your customer's data is secure while shopping online. Your Shopify store comes equipped with a free 256-bit SSL certificate and is Level 1 PCI compliant. This certificate not only protects your store from hackers but encrypts all your data, whether it is stored or in transit. The PCI compliance allows your customers to use credit and debit cards without the fear of someone stealing their card data.
Finally, Shopify has fantastic support and backing. Currently powering thousands of online stores, it has built a community of experts who readily solve any problems that a customer or a store owner may face. It also has a dedicated help center.
All in all, Shopify is a great option and the first choice for many online sellers.
2. Shopware Enterprise
Like Shopify, Shopware is another powerful eCommerce solution that supports the needs of every eCommerce business model. Shopware allows easy mapping of both B2B and B2C businessprocesses in one system solution. Shopware helps its clients set up both classic eCommerce requirements and specific sales solutions with modular software architecture. This platform helps handle the most demanding and complex eCommerce projects while guaranteeing stability, security, optimal performance. Some of the critical features of Shopware:
Unlike the previously discussed B2B marketplace platform Shopify, Shopware does not come free. However, it does offer a one-time purchase license model, which comes with a high standard range of functions, making it a terrific deal. A direct market comparison with other platforms shows that Shopware has an unbeatable total cost of ownership, mostly because it does not charge the additional price of optional plug-ins.
Shopware is an ideal solution for businesses looking to grow and expand their horizons over time. The modular nature of the software architecture makes it a highly scalable platform that maintains a high-performance standard. In addition to that, the API First approach that lies in Shopware's core provides exciting opportunities for the development of an entirely new business model.
Shopware Enterprise enables users to reduce project cycles and costs significantly, making the time to market extremely short compared to other solutions. It comes with two options. The first one is a standard solution, suitable for most business processes, while the second one is the Shopware enterprise solution meant for more advanced project implementation.
Finally, Shopware offers high investment security. With international partners who specialize in Shopware projects to personal support throughout the project's entire duration, Enterprise customers enjoy it all.
3. BigCommerce
BigCommerce, another famous player in the online market game, is known for their dedication to their sole cause – helping their users make that sale. You see this dedication from the moment you click the 'get started' button on their platform, all the way through the site management tutorials, analytics, revenues, product orders, etc. BigCommerce is most known for being an all-in-one eCommerce solution platform with features that help you match your exact business requirements. The most noteworthy features of BigCommerce are listed below:
When we said BigCommerce focuses on making a sale, we were not kidding. They are indeed dedicated to it and would go to great lengths to help you make your first or hundredth sale. BigCommerce allows its customers to integrate your store with a multitude of sales channels to boost sales. Whether it is an online marketplace like Amazon, eBay, or Google Shopping, a social media platform such as Facebook, Instagram, Pinterest, or a physical store, BigCommerce does it all. Through its online sales manager known as Omni-Channel, BigCommerce lets you connect and sell your product on different marketplaces without having to set up your product on those channels manually.
Another essential feature is what BigCommerce calls Abandoned Cart Saver Feature. In layman's terms, this feature remembers the items that a consumer puts in the cart but doesn't complete the checkout process. After certain intervals, BigCommerce automatically sends them up to three reminders. Studies have shown that most online shoppers like to keep their unpurchased items in their carts or abandon their carts before the checkout process. This particular feature has a proven record of recovering a considerable number of otherwise lost sales attempts.
BigCommerce also allows you to set your own promotional rules. Whether you are thinking of giving out coupon codes, offer discounts and sales, or straight-up display ads on the platform. BigCommerce lets you customize banner ads as per your requirements and place them as you desire. Another feature that helps you avoid unnecessary complexity is called Cart Level Discount, which works so that all discounts apply to the shopping cart in real-time. Deep targeting options are also available, which lets you use discounts on each item before checkout to show the customer exactly how much they are saving.
While eCommerce has grown globally, our banking and financial system have not kept up with the pace. Even today, the financial solutions present in the market are not universal and vary from one region to another. This versatility of problems means that customers will only be able to shop if their payment system is compatible with your store. BigCommerce supports a broad spectrum of payment gateways, making it easy for consumers to complete that sale. On top of that, there are no transaction fees, which might have otherwise scared some customers away.
Finally, BigCommerce allows a great degree of automation and lets you automate processes for the most hectic, repeating, or time-consuming tasks. By doing so, you have the time to focus on the bigger picture —growing your business.
4. Yo!Rent
While the majority of the easily available marketplace software focuses on developing a platform for selling products, Yo!Rent is only one of those few that are extensively developed to support both selling as well as rental operations. An online rental business has several unique problems that are absent in selling businesses. For example, the UI and navigation. Platforms built for selling products cannot help you navigate nearby rental equipment or vehicles or book them with specific rent start and end dates. However, Yo!Rent on the other hand has been built using all these challenges of an online rental business in mind. Some of the features:
In an online rental business, a cart can have multiple products with varying rental duration, fees, and security deposit. Thus, making it difficult to generate an invoice. Yo!Rent resolves this complex problem with an advanced booking system that assists in booking and prepares accurate invoices.
The document verification module of Yo!Rent ensures that a vehicle is rented to legally eligible customers. For example, renting out a vehicle (be it a car or heavy equipment like a loader) requires the customer to have a particular license and other documents. Yo!Rent's document verification feature ensures that the equipment is rented to a legally suitable person.
The rental buffer period in Yo!Rent gives vendors the time for product inspection and maintenance. It can be set manually by a vendor in a product listing. Products that are in the buffer period are not added back to the inventory and cannot be booked. If a piece of furniture has a 3 days rental period, it will be only added back to the inventory and be eligible for booking after 3 days have passed. In these 3 days, the vendor can inspect the product and claim reimbursement from the security deposit in case of any damages.
Along with renting out products, Yo!Rent comes with the option to sell products and has a Request for Quote (RFQ) module. Furthermore, it supports add-on products and services to increase profit. For example, on Yo!Rent, a vendor can rent out printers and sell ink cartridges as an add-on product.
Some other important features of Yo!Rent are multi-tier product subscriptions, price surge, map view, product comparison, PPC management, affiliate management, discount coupons, multi-currency support, and progressive web apps (PWAs). Before purchasing, interested entrepreneurs can try Yo!Rent's free demo and see how every single feature works.
5. Magento Commerce
Magento Commerce is the fifth one on our list of best eCommerce platforms for B2B marketplaces. Magento helps users create a unique shopping experience for their customers by erasing the boundaries for what is possible. The platform combines rich, out-of-the-box functionality, powerful business tools, enterprise-level performance, and can scale-up to keep your business ahead of the competition. Magento was built for rapid and cost-effective innovation to meet your diverse customer markets' increasingly complex demands. Some of the notable features of Magento Commerce are as follows:
Like Shopify's drag and drop tool, Magento also offers an innovative page builder, where the technical requirements needed to build a store are reduced while the creative freedom is increased. This powerful content creation tool allows you to create, test, and launch new site content continuously.
Product Recommendation, another tool that uses algorithms to recommend relevant products to your consumers. The algorithm analyzes shopper's behavior and creates unique recommendations based on content similarity and popularity. Recommending relevant products to peers has been a top-tier goal for sellers. Shoppers who would not usually spend extra money on a purchase can come back for more. One example is recommending accessories to customers who are about to finalize big orders.
Magento is the absolute best when it comes to Asset and Content Management and Content Staging. These terms are similar in meaning regarding content, including text, highlights, and images/videos. Appropriate placement of content can convert a casual visit into a confirmed sale.
With options like Instant Purchase, Magento converts repeat visitors into regular shoppers. The function remembers users' previous searches and preferred payment options immediately available through a single button, positioned conveniently next to the 'add to cart' button.
It also allows store owners to arrange their products through a Virtual Merchandising feature, which refers to an arrangement of products to drive higher sales on specific product categories. Magento allows store owners to do this via simple drag and drop options. You also save time by setting the rules in one go and then just assigning each of your products a category. The Visual Merchandising feature will automatically arrange your products as per your directions every time you add a new product.
There are several other features worth mentioning:
Elastic Search
Powerful Admin Experience
Dynamic Rule-based Product Relations
Customer Segmentation and Personalization
6. Oracle SuiteCommerce
Oracle SuiteCommerce, also called NetSuite, is a cloud-based eCommerce solution that helps merchants worldwide deliver engaging and unique B2B eCommerce experience. Oracle SuiteCommerce is known for unifying modern eCommerce with your back-end business systems, thus being a one-window solution for all your business needs. Being one of the game's oldest players, Oracle SuiteCommerce offers numerous features that place it over its competitors:
When it comes to creating a unique user experience, Oracle SuiteCommerce is best at it. Utilizing a single source of item, inventory, customer and order data to feed customer-facing systems, Oracle creates an engaging customer acquisition and retention experience. It unifies the online and in-store buying journey. The best part is that stores are optimized for all devices, giving your shoppers a seamless experience when switching between devices.
With a central communication hub, Oracle delivers timely and relevant data to fuel your customer engagement through strategic digital marketing. It also gives you insight into customers' true profitability by capturing all transactions and interactions in a single system. Thus this data becomes more readily available when making marketing decisions or targeting relevant customers.
Oracle is an enterprise-level software by nature, and every single feature speaks of its roots. It connects global supply and distribution chains, ensuring that the information is being shared in real-time, thus improving coordination and responsiveness. The inventory is also visible in real-time across the enterprise. It makes the store owner more aware when ordering new merchandise, capturing lost sales, or promoting profitable products.
Oracle was built to meet the needs of small businesses and multinational corporations alike. To achieve this, Oracle has a compliance agreement with multiple countries, languages, tax rates, and currencies worldwide, all done through a single platform. Not only that, it lets you create numerous brands and sites, each targeting a different demographic around the world, thus making sure your product speaks to each of your customers individually.
Finally, Oracle being a one window solution eliminates the need to integrate multiple platforms with your store. It allows you to do everything from its native system from POS, inventory, order management, merchandising, marketing, financials, and customer service.
7. SAP Hybris Commerce
SAP Hybris is originally a comprehensive customer engagement platform, but given their ability to work in any channel, they also mastered the eCommerce game. It is a powerful eCommerce tool most suitable for organizations in the telecommunication, manufacturing, and financial service industries. This platform can be purchased through a hybrid suite offering a three-tiered solution including cloud, on-premise, and on-device deployment according to customer needs. The company's eCommerce solution has diversified the range of functional areas that they work on, including billing, commerce, marketing, microservices, etc.
Some of the most notable advantages of SAP Hybris over other eCommerce platforms include:
SAP Hybris comes with a standard set of features as in any other eCommerce platform and then builds on top of them to go the extra mile. These features include:


Catalog Management
Product Content Management
Omni-Channel B2B
Sales Performance Management
Salesforce Automation
Subscription Order Management
Agile Charging
Optimized Pricing Simulation
Versatile Document Management
Customer Financial Management

The Omni-Channel allows SAP Hybris to be a versatile, one window solution to many sales channels and other platforms. This is especially helpful in large enterprises that utilize more than one platform to market their product. The Omni-channel helps manage all these platforms through one window, which is SAP Hybris. This makes the customer a part of the process, starting from data collection to merchandising.
Another thing the platform is most known for is its active customer engagement. SAP knows that customers are always looking for instant communication in today's world, and their queries are quickly answered. In such a world, passive communication can fast lose a customer. SAP Hybris' cloud-based sales products with an integrated CRM framework allow real-time interactions with the customers and fetches this customer data to be used by front line sales teams to generate leads and prospects.
8. WooCommerce
WooCommerce is the most extensively used B2B eCommerce platform in the world. It currently holds about one-third of the global eCommerce market, and there is an excellent reason behind that. If you came across WordPress, you must be aware that it is the most commonly used website development platform globally, powering a good number of websites. WooCommerce happens to be the official choice for WordPress users looking to convert their WP websites into a functional eCommerce store. WooCommerce comes as a WordPress plug-in, and like WordPress, it is elementary to set up and use. While it is free to use the tool, the enterprise-level features are available as optional plug-ins for different price ranges. Some of the most notable features of WooCommerce include:
The first and most noticeable feature of WooCommerce is its seamless integration with WordPress sites as a WordPress plug-in. As we discussed already, many sites were built on WordPress, making WooCommerce an obvious choice for sellers. Also, WooCommerce is a fully open-source platform managed on GitHub. This connection means that every piece of code is publicly available, and you don't need to write new ones as part of developing a store. Just look and for the right code, and once you find it – modify it to your needs.
Talking about the flexibility of development, WooCommerce once again takes the leads. While platforms like Shopify only had 70 themes, WooCommerce is a WordPress plug-in that can utilize all WordPress themes. That number is well beyond counting since a new WordPress theme will be released by the time you finish reading this article. Woo offers a world of flexibility and suits the needs of all sorts of stores for selling products, skills, or services. Finally, WooCommerce comes with over 400 different extensions, whether you need to set up payments, marketing, accounting, shipping, or many other things.
Being a WordPress plug-in, WooCommerce will have the same SEO advantage as a regular WordPress. Search engines love WordPress websites because they apply best practices for content optimization and brand building. Moreover, WordPress also offers the notorious blogging feature. Besides selling the products, you could also set a blog page and use it to do highlights or promotions. Blogs are great tools to connect to your customer base, and WooCommerce capitalizes on that perk.
From providing In-Depth Documentation to multiple language support, WooCommerce does it all. It allows customers to apply filters and sort products out, makes a side-by-side comparison, and more. The list of WooCommerce features is long, but we are going to list a few selected that we think are worth mentioning:
Local Customization based on a particular region
Products Sorting and Rating
Listing Unlimited Products and Product Photos
Smooth Integration with Marketing Tools
Easily Managing Orders
Our Two Cents
We discussed each of the listed platforms' features and the kind of advantages they have over competitors. When it comes to technicality, it boils down to several things from your business requirements. For example, someone with less web development experience would go for a platform that takes care of that problem. Let's say Shopify with its drag and drop option, or Shopware with its modular architecture, or Magento with its page builder tool. Similarly, someone with a physical and online store requirement would go for Oracle SuiteCommerce since it offers the most features for such a setting.
Regardless of all of these conditions, every single platform on this list is excellent and does an outstanding job helping you set up your B2B eCommerce store and reach out to your customer. We can help you get started – reach our eCommerce experts and find out which platform is best equipped to embrace your unique idea and the B2B strategy you need to push it a success.