The creative genius behind Shopware and PWA
Progressive Web App (PWA) has the mobile experience of native apps and supports delivery speed recognized as one of the main factors involved in shaping the future of eCommerce.
When wrapped around the right platform, PWA tech opens a hidden potential for unique customer experience and a potential for an increased client base. Shopware 6 is the platform that enables PWA to unleash its powers, liberating eCommerce from the limiting restrictions of operating systems or device models. PWA allows online marketers to reach customers without the otherwise daunting software and hardware restrictions, quickly and efficiently.

PWA's are fast, efficient, and don't require app store approval to run. They are easy to use and deploy and seem like tools that will soon change the way both customers and store owners perceive online commerce.

Progressive web apps have more juice under the hood than their flash-like speed and native feel suggests. They are comfortable for developers and great for customers. They can be installed and run just like regular web apps, but they support additional astonishing functionalities, one of which is the offline interaction.

PWAs use asynchronous processing, a notorious technique that prevents the effects of processing cycles from negatively affecting user experience. This includes the support of app use during no network connection. Progressive apps allow their users to use it offline, without the expected performance decrease or unnecessary delay. This benefit alone is suggestive of how the look and feel of eCommerce will develop soon. Progressive apps are the answer to changing demand and ever-increasing customers' expectations, and Shopware 6 is the tool that brings it all together.

Shopware, an eCommerce platform with an already strong mobile-friendly undertone, pairs up with PWA in a unique and enabling way. Shopware 6 supports clean and flexible apps designed for a mobile experience. It supports apps with native functionalities, immense speed of delivery, and is has the creative potential to host the progressive force behind PWA technology. This custom solution, made exclusively as an evolution of native apps, is called Vue Storefront and readily welcomes a multitude of creative approaches in business strategy and plans for growth.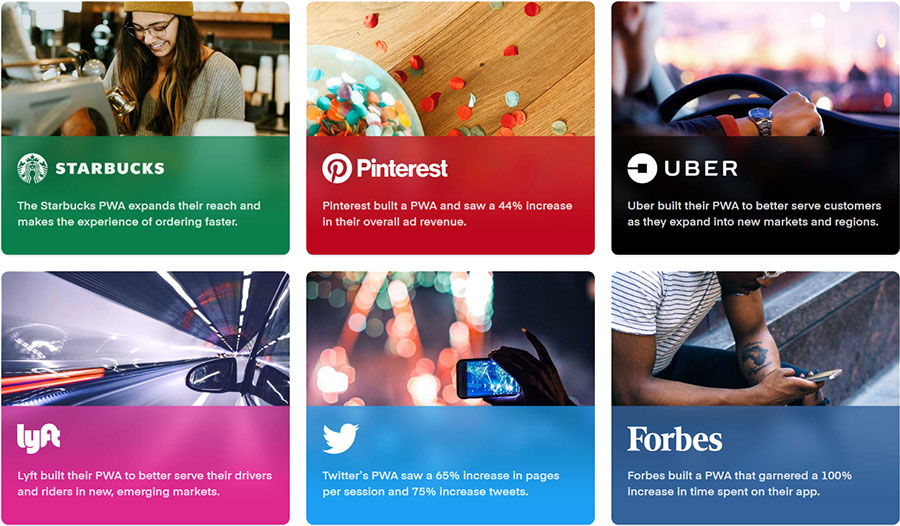 Established brands use PWAs to gain market advantage
PWA, SPA and web apps
Offline Enabled
Even though PWAs work offline by design, its content remains discoverable. Although the term offline may carry a slight tinge of limited searchability in its meaning, that is certainly not the case with PWA. Progressive app content is indexed in Google, just like any e-store on the web, and is a subject for further performance-enhancing techniques like content optimization and SEO. While PWA does focus on speed of delivery, it also keeps up with all contemporary requirements that are proven links to success in online business.
PWA Security
Progressive apps tech also adheres to the latest security standards since. Apart from being the powerful tools that changed eCommerce, mobile devices are also sources of private information. PWAs are built with robust security methodology, using contemporary encryption methods and security protocols. Mobile security is primarily good for authentication processes and privacy protection but is also plays a significant role in shaping the smooth shopping experience. Customers' purchase potential rises when they feel safer while shopping.
PWA, SPA, GIA
Due to the nature of PWA's core features and how they complement each other, it can be mistaken for its variance: Single Page Applications (SPA). PWA and SPA are both responsive, efficient, and user-friendly applications –a similarity also shared by Google Instant Apps. However, progressive apps support both single- and multi-page applications. PWA has a faster content delivery and extends the convenient native look and feel that users love and expect.
Progressive is all the best from the web
PWAs have quickly grown into the next-level web apps that have gradually accumulated all the best features the web has to offer and presented them as a ready solution for a wide range of eCommerce projects. They are the result of years of previous experience built upon all prior mistakes, answers, and redemptions in eCommerce. When combined with Shopware 6, progressive apps bring undeniable advantages to online business owners, especially to niches with the omnipresent competition.
The unique and the established
Although some similarities are present, what mostly differentiates PWAs from regular web sites are their unique features. Like web apps, PWAs kept JavaScript as a base language - the moving part in PWA. The functionality is called Service Worker and represents a JavaScript file that asynchronously works in the browser background, caching network requests, optimizing performance, and delivering uninterrupted user experience. PWA is a mix of unique features and legacy tech that's proven to produce positive results.
Increased usability with PWA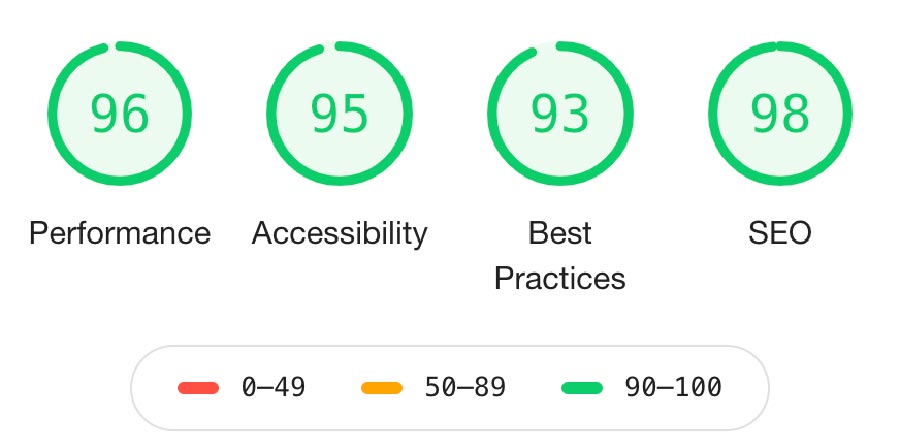 Increased Usability of PWA - the metrics
From a usability point of view, PWA is the result of what a mobile-friendly test will most likely uncover: design flaws related to how people use their mobile phones physically. Hand-held devices have most of their front surface turned into a screen, and with PWA's support for full-screen experience, mobile browsing becomes a process shaped by users' browsing patterns.

Mobile usability presents a challenge, especially with the limited range of one finger action concerning screen size. Mobile users prefer to scroll up and down, rather than twist their thumb in an unnatural and uncomfortable position. Therefore, the mobile solution that comes through Shopware's PWA accommodates for factors like finger range and content display. App's success rate —especially mobile eCommerce apps—depends to a high degree on looks and responsiveness. PWA-powered navigation adheres to mobile UI standards required for flawless user experience and favors content that's always reachable.
Design in PWA
Some of the best eCommerce apps on the market have already recognized the role of mobile UI in achieving flawless user experience. PWA relies on an impeccable user interface with a rapid input response rate, making it a preferred choice of tech-versed shoppers, which is most of all potential customers for mobile.

Progressive apps come as the result of contemporary tech that relies on headless eCommerce, and collateral benefits native-like-experience coming as a result of its precaching capabilities. PWA takes the concept of the app's design very seriously. The idea that design should prioritize when planning for an eComm app led to the emergence of the Vue.js-based UI framework called Storefront UI.
Vue Storefront: Shopware's PWA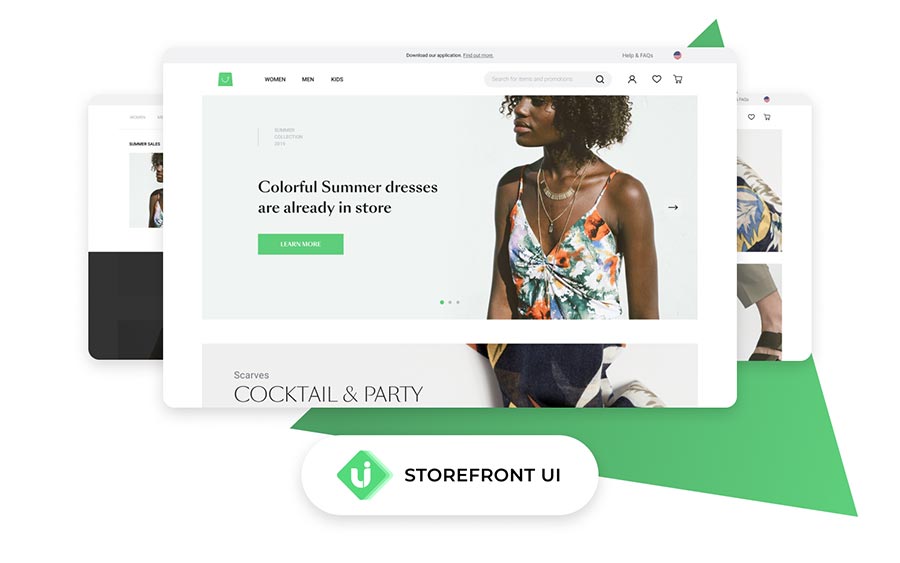 Storefront UI - Versatility by design
Vue Storefront is an intelligently designed framework that perfectly couples PWA with Shopware 6 so that all the building blocks involved fit perfectly in the bigger picture they represent. In Vue, app components harmoniously complement each other, allowing shop owners to switch sales strategy on the fly without disturbing the look of their front pages. This solution is all-inclusive: with flexible plugins for business-specific issues, and community-driven add-ons to face the common problems. Vue Storefront also supports beautiful and clean themes and different customization options required by niche eCommerce. Existing for three years, VueStorefront is one of the fastest-growing open-source frameworks on the globe.

It comes as the result of the collective work of one like-minded community, united by a common goal: bring the best customer experience and maximize the conversion rate. It's one of the leading shopping cart solutions featuring PWA.

Following the intelligent design behind the headless approach for eCommerce, Vue supports backend changes without affecting the presentational part meant for the client. This fact implies that different sales strategies can be applied without running the risk of hindering the experience the storefront presents for customers. This type of dependency between site components makes it easier for developers to come in and do maintenance or do custom works.

The combination of Vue Storefront and PWA showcases the benefits when technology adapts to existing business strategies. When executive managers change their ideas to match the potential of specific tech, it feels wrong and shows that some solutions don't support necessary changes. Vue Storefront does the opposite – it has the embedded flexibility to adapt to existing business ideas, making companies and store owners unleash the true potential behind their most creative eCommerce strategies.
Storefront UI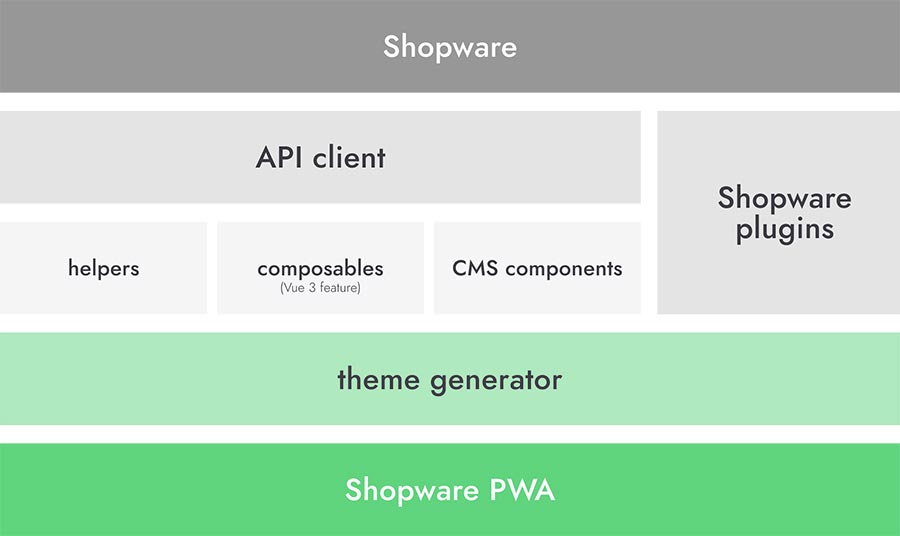 Shopware PWA high level architecture
The intense focus of Vue Storefront on the design aspect led to the emergence of Storefront UI. This framework is a Vue.js-based customizable design system of components meant for eCommerce projects. With Storefront UI, mobile-first applications have their best functionalities embedded in the app's design and layout. Every UI component supports the level customization that satisfies all 'look' and 'feels' as planned. Storefront UI can realize business ideas by following the exact requirements and intent behind its original creator.

The design components of Storefront UI have the flexibility of free carbon atoms, always ready to merge with other elements and form more formidable functionality or optimize an existing process. This UI system is based on Google's UX playbook, and it is proven to deliver one of eCommerce's most wanted after-effects: high-quality user experience. Vue Storefront offers a smooth shopping journey for an extended customer base, along with the deployment simplicity needed for developers to turn it into reality.
Conclusion
CodeCoda has been involved in dozens of successful Vue Storefront projects from start to end. Increased revenue for eMerchants due to faster performance is only one reason we suggest VSF PWA to old- and new online stores. However, the implementation of such new features comes at a not insubstantial cost for shop owners and should be planned well beforehand.